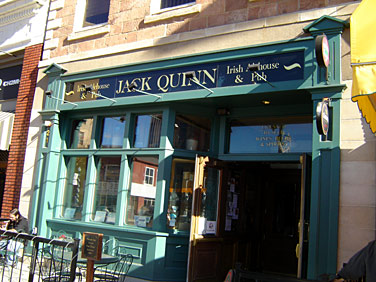 Monday night was the first evening of Taste of Colorado Springs. I'm just going to go ahead and call it ToCS. Some of the swimmers,
TAJ
and myself decided we wanted to eat at all the restaurants in The Springs. So, each week we're picking a new restaurant and trying it out. It's going to take a while, but hey, what else do we have to do?
First up was Jack Quinn's an Irish restaurant/pub. Don't worry, we went for dinner, not to drink. I was the only one who had been there before, and instead of being adventurous I ordered my usual- fish 'n' chips. As usual, it was delicious. The swimmers and TAJ also enjoyed their meals. Maybe we should come up with some type of rating system if we're really going to do this....
There are actually quite a few restaurants in Colorado Springs to choose from. This is no easy task people, this will take a long time. ToCS is a serious undertaking! More to come on this.